KODIAK PINES CABINS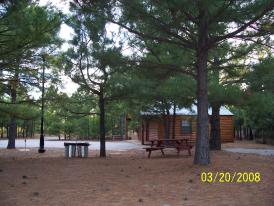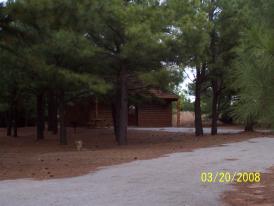 Kodiak Pines Cabins is a family oriented facility. The cabins are quaint, modern log cabins located ¼ of a mile from the Fort Cobb Lake, and 4½ miles north from the town of Fort Cobb, Oklahoma. The Kodiak Pines Cabins are located within the State Park Boundaries, but are privately owned and operated. There are a total of five (5) cabins nestled in an area of a woodland mixture of hardwoods and pine trees, adjacent from hole number four (4) of the State Park Golf course. Even though the setting is among a wooded area it is not too secluded. Wildlife is known to wander through the grounds unexpectedly, however, they don't get too close to anyone.
There are three (3) large cabins that sleep a maximum of six (6) occupants and two (2) small cabins that sleep a maximum of four (4) occupants. Each cabin has parking for a boat, jet ski's and/or vehicles. Extra parking space is also available if needed. All cabins have log siding on the outside with stained concrete floors, yellow pine interior walls with vaulted ceilings.
Amenities for the LARGE cabins include:
. 625 sq. ft open floor plan (no enclosed bedrooms)
· Full width covered porch
· Ceiling fans
· Central heat & air
· Private bathroom; Full size tub/shower
· Clock Radio
· 1 Queen bed, 1 sleeper sofa, 1 set of extra long bunk beds
. Full Size Kitchen with stove/oven, fridge, microwave, coffee maker,
toaster, and all cooking and dining utensils
· T.V. (local channels only)
· Daily linen service NOT MAID SERVICE
· Picnic Table & Charcoal grill
· Galvanized Trash Cans outside for smelly or large items
Lodging Rate for Large Cabin (Sleeps 6 – Maximum Occupancy) - - $149.00 per night plus Tax & FEE
One (1) nights lodging will be charged as a deposit when you make a reservation.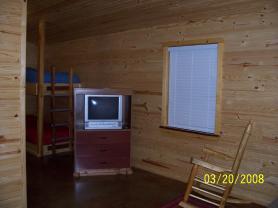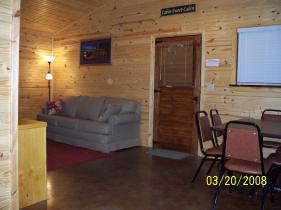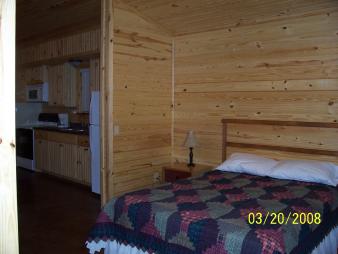 Amenities for the SMALL cabins have all the above except it does not have the bunk beds. The small cabins are in a duplex (back to back). One of the small cabins is ADA (American Disability Act) compliant. The ADA cabin has 576 sq. ft. The other small cabin has 528 sq. ft.
Lodging Rate for Small Cabin (Sleeps 4 – Maximum Occupancy) - - $129.00 per night plus TAX & FEE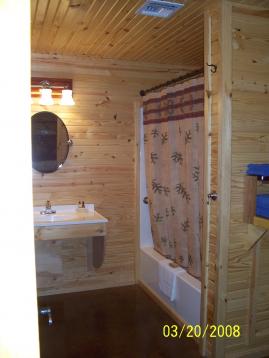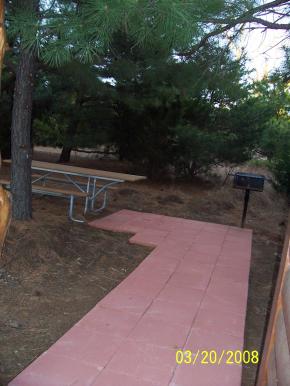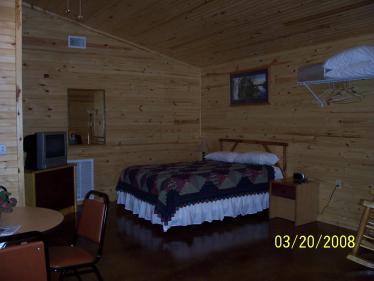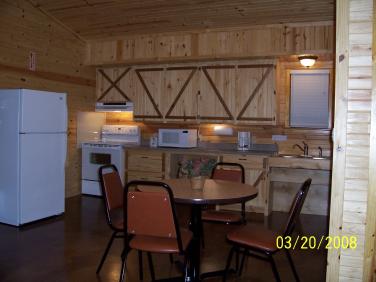 *NO PETS ALLOWED ON PREMISES
*NO SMOKING IN THE CABINS
*NO FIRES ON THE GROUND